Wondering about sorting holidays? We are pleased to announce that Worldwide Holiday Packages will soon be posting more articles on sorting holidays, holiday events in Sharm El Sheikh and in the whole south Sinai. Local News, Special offers from hotels such as Hotel Ghazala Gardens Sharm, Announcements for latest events, Openings of new Hotels, Diving centers and Clubs. All is now available at your finger tips so let us help with hotel room for your holidays. Be a frequent visitor, we have the best hotels we could find, and make use of our fast growing, free of charge services before you book your holidays to the resort in Sharm El Sheikh. Let us help turn your next holiday into the best holiday ever!
Looking for Holiday Reviews for the Hotel Ghazala Gardens Sharm?
Hotel Ghazala Gardens Sharm Holiday Reviews
We recently stayed at Ghazala Gardens and I can honestly say that we could not have chosen a better place in Sharm El Sheikh. It was within 2 minutes walk from Naama Bay (literally across the road) and on one of our first days there we saw their sister hotel – Ghazala Beach, which paled in comparrison. We also did a city tour excersion and saw a few other places which looked very dated with tiny swimming pools.
Ghazala gardens has amazing swimming pools, the main one wraps around one the the main bars. The resort also boasts it's own man made beach which is great, but be careful because it can really burn the soles of your feet. It is extremely warm there at this time of the year.
I thought the food was amazing. I know some people won't agree, but there was plenty to choose from and I honestly could not complain. The breakfast pastry selection is to die for.
Our air conditioning was not working properly in our room, but once we told them they sorted it out immediatley. Also, the cleaners of the room only tend to make you towel decorations if you tip them, but this was not an issue for us. It is recommended that you tip once at the beginning of your stay and then again once at the end.
We highly suggest you do a quad biking excersion as it is AMAZING!!!! A two our bike ride around the dessert and a cup of tea with the desert nomad people.
Be careful not to leave your balcony or terrace door open, especially at night as it tends to attract mosquitos! Make sure you take some insect repelant and spray yourself before going to sleep at night if you are prone to bites.
Also take plenty of sunscreen because as I mentioned, it is really hot and I am used to the african heat. It even got a bit too much for me at the end.
If you do go out into Naama Bay then please note that you will be hassled a lot, especially if you go into the shops. They don't quite know how to take no for an answer and like to take the micky out of the various international accents. Luckily for me I am South African, so they could not mimick mine, but for my boyfriend who is Irish it was a very different story. The men also like to hit on the women, regardless of whether or not they have a boyfriend and this goes for a hotel staff as well.
Be warned that there don't seem to be any road rules in Egypt and cross the road can be a rather challenging experience. Also I find it helps if you do not look out the window while driving anywhere. It's quite frightening.
I would also like to thank Mohammed who worked behind the Mango bar during the day. He served us with endless cocktails which we enjoyed in the pool most days.
Overall I loved very minute in this resort and I cannot wait to go back. The resort is so good you may not even want to wander out into the rest of Sharm El Sheikh.
I stayed in the Ghazala Gardens hotel with my husband and two children last year and thought that it was no longer on sale to British customers. My husband spotted it advertised in the Sunday paper last week and to my delight we've been able to book it again for Christmas next year.
The location and standards of the Ghazala Gardens are the best we've come across in Sharm. The hotel is really plush and all the shops and bars are just across the road. We must have saved £100 in taxis.
The kids loved the Italian Buffet bar which was right beside the pool beach. I don't think my husband and youngest would have moved from their sun beds all week if I hadn't made them. I preferred wandering down to the seafront at the Ghazala Beach across the road where we could use the buffet restaurant at lunchtimes and there was an All Inclusive bar just for our use.
The rooms were quite big and kept clean. I noticed some that lead straight into the pool, but I expect they were more expensive. To be honest the rooms we had were quite good enough anyway.
I am so pleased we can go back.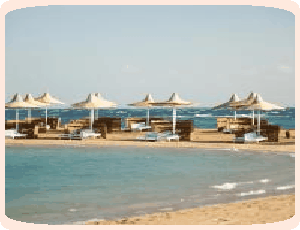 Sharm Hotels
Some random ideas for interesting things to do in Egypt
Check the map for suitable areas!.
Visit the Karnak temple and temple of Seti. (Luxor)
Mit Ghamr Dovecotes (Madinet Mit Ghamr (Include Daqados)) Giant pigeon houses packed into city streets in Egypt.
Couple up on Giftun Island. (Hurghada)
Take a Qarun lake boat ride.  (Cairo)
Take a Qarun lake boat ride.  (Cairo)
More Hotels in Egypt
Take a Taxi to Sharm
Egypt is an absolute nightmare for auto travel and getting to the Hotel Ghazala Gardens Sharm or nearby resorts can get a real pain. So why not take a pre-booked taxi and arrive at your hotel relaxed? You really don't want to take a random taxi, even at the airport, so try and book a reputable Sharm taxi firm in advance.

Popular Hotels This Week