Wondering about where to go on holiday? We are pleased to announce that Worldwide Holiday Packages will soon be posting more articles on where to go on holiday, holiday events in Hurghada and in the whole south Sinai. Local News, Special offers from hotels such as Jasmine Village Hotel Hurghada, Announcements for latest events, Openings of new Hotels, Diving centers and Clubs. All is now available at your finger tips so let us help with accommodation for your next trip. Be a frequent visitor, we have some of the most amazing value hotels, and make use of our fast growing, free of charge services before you book your next trip to the resort in Hurghada. Let us help turn your next holiday into the best vacation ever!
Looking for Holiday Reviews for the Jasmine Village Hotel Hurghada?
Jasmine Village Hotel Hurghada Holiday Reviews
"Me and my boyfriend spent 2 weeks in june 09 here just back yesterday and i have to say i wouldnt go back!! I met alot of nice englisH/Scottish people which made the holiday! Excursions are good. Hotel is clean, workers work very hard and always trying there best to help you. All inclusive is crap, food aint up to"
"if you are russian or german you will be fine.im english the food was absolutely dire the entertainment was non existant the holiday was crap. myself and partner spent 3 days in room with cronic sickness.the hotel itself very old and outdated i wouldnt even give it 2 stars.its cheap but not worth the grief. more "
"where do i start? food terrible,staff unfriendly,impossible to get served(unless russian)charge for most things although supposed to be all inclusive.constantly mithering you to buy extras. have no change if you do buy anything, intertainment crap,please dont go here, my list could go on and on! i have been on lots of all inclusives and enjoyed them all but this is"
"my wife and i stayed at the jasmine for 1 week 5th may what a lovely place to stay the staff could not do enough to help you 1st class room was spotless thanks to ali our cleaner he was brill bless him the only problem we found was the food very repetative but we aways managed to find something"
"We have just returned from one week at Jasmine Village hotel through Bookable Holidays. The travel information was sparse and we were given incorrect advise over transfer arrangements. Don't look for 'Wings' rep at the airport – you won't find him – after a long search we found Med Hotels was what we should have been looking for. Our Rep"
"My wife booked it for my 50th birthday, the beach,sun,pool and surrounding area(of hotel) was fantastic, however, the food in general was not to a good standard, served cold and lasagna without mince!. Some of the waiters/staff were very arrogant,especially towards us Brits,but others were very friendly (even saving towels on beds at the pool), a very big problem with"
"I booked this holiday for my 40th and it was only after booking I looked at the reviews (silly me I thought!). The reviews were quite bad so I was not looking forward to this trip. My husband and I were very wary and slightly bewildered on our arrival to Hurghada and we couldn't relax straight away. We were met"
"how anybody can write a good report of this hotel is beyond me!! we arrived at this "4 star hotel" at the beginning april for a relaxiing holiday. the room we were given was clean and tidy, but that is where the good ends. for a all inclusive holiday i have never been to a place that charges for so"
"I booked this hoilday very very late but went on the guidence of the tour operators rating. They said it was four star and from first impresions it was but the first room we had was very disapointing as it looked and felt like a dungeon. It was only when we requested a change of room that made it feel"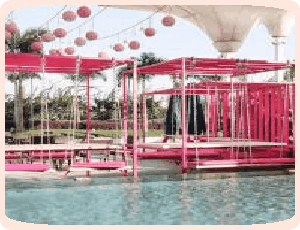 Hurghada Hotels
Some suggestions for stuff to do in Egypt
See the map for suitable areas!.
Crawl space in Sakkara. (Giza)
Explore the history at King Tutankhamun Museum. (Sharm El Sheikh)
Cairo's Garbage City (Cairo) Slum Settlement Filled With Mountains of Garbage.
Visit Karnak Open Air Museum. (Luxor)
Visit Karnak Open Air Museum. (Luxor)
More Hotels in Egypt
Take a Taxi to Hurghada
Egypt is an absolute nightmare for auto travel and getting to the Jasmine Village Hotel Hurghada or nearby resorts can get a real pain. So why not take a pre-booked taxi and arrive at your hotel relaxed? You really don't want to take a random taxi, even at the airport, so try and book a reputable Hurghada taxi firm in advance.

Popular Hotels This Week