Wondering about where to go on holiday? We are pleased to announce that Worldwide Holiday Packages will soon be posting more articles on where to go on holiday, holiday events in Sharm El Sheikh and in the whole south Sinai. Local News, Special offers from hotels such as Tropicana Azure Club Hotel Sharm, Announcements for latest events, Openings of new Hotels, Diving centers and Clubs. All is now available at your finger tips so let us help with room for your vacation this year. Be a frequent visitor, we have some of the most amazing value hotels, and make use of our fast growing, free of charge services before you book your vacation this year to the resort in Sharm El Sheikh. Let us help turn your next holiday into the holiday of a lifetime!
Looking for Holiday Reviews for the Tropicana Azure Club Hotel Sharm?
Tropicana Azure Club Hotel Sharm Holiday Reviews
We have just arrived back home from an 11 night stay. Our first impressions were good, after a long day we arrived at 10 pm, quick transfer from the airport (only 15 minutes, and do not pay for a visa there unless going to Cairo). On arrival- don't worry about leaving your bags outside as the staff will take your suitcases to your room once checked in. Reception was spacious and pleasantly cool, and the staff were very efficient at checking you in. Hotel room was spacious, cool and modern and the beds are surprisingly comfortable. Pool is lovely but be warned! numerous polish and russian women posing like glamour models whilst having their photo taken by thier mullet haired boyfriends! unless your up early (between 7-8am) you won't get a sun bed- yes it is sad but we were early risers and it was so hot- your better off sunbathing early until mid afternoon then go to the bar! Pool bar offers a barbecue for lunch but you do have the choice to go to the main buffet style restaurant too- plenty of choice and once again the polish and russians make a show of themselves of trying to fit as much food on their table as possible and were really quite rude- perhaps a language barrier! The food was hit and miss- we did eat at the 'a la carte' italian and chinese- welcome change to the never ending supply of pasta and spinach in the buffet restraurant. We were quite ill for a few days from the food- but couldn't be specific- it's all inclusive so we tried everything! You can literaly eat all day if you want to and there is a constant supply of pastries and cakes so be prepared to eat your body weight in food!
The bar was quite small in comparison to the size of the hotel but all the staff were lovely and you did get served bery quickly despite this- the measures are very large and the local brands are very strong- so if your not keen on 2:1 vodka and coke- tell them! One guy who works the bar looks a bit like a camel and sa miserable as one too- but we did mange to make him smile- with a pic to prove it!
We only went to the beach twice as white sands and glorious sea it was not! and the fish bite! however on the beach there is a company called the desert rose who do scuba and snorkelling trips which we chose instead of the thomson trip- highly recommended- £50 for a full day out on lovely boat called La Luna- we saw dolphins, 3 stops to the protected coral reserves with 2 snorkelling and one scuba dive (PADI) and lunch includuded which was quite good, absolutley brilliant and the highlight of the holiday, bought the DVD and it does work too surprisingly. Don't go for the thomson trips as they are over priced and over valued- you can find local companies which are safe and great value for money!
Night time entertainment is ok- you will be amused by people trying to sing karaoke and the strange moves you see on the dancefloor- but there really isn't an awful lot to do. Daytime they do have actvites so unless you love the sound of 'follow the leader' repeated 16 times a day, take your ipod!
All in all, it was a lovely holiday, the weather was unbelievably hot even for sun worshipers, food was ok- mcdonalds and kfc is a 5 min walk to the left of hotel and they do deliver if you can't be bothered to walk!
While we wouldn't rush back, it is ideal for couples and there is a kids club to keep them entertained!
The diving is unbelievable! Anyone choosing to go to Nabq bay, I would say this is a 4* for the rooms but 3* food and 1* nightlife.
The hotel is great the food is good everybody in the hotel are really friendly and helpful and make you feel very welcome the rooms are really nice we went on plenty of trips the quad biking us especialy good and the submarine ride was fantastic midoo the the rep for thus trip is very funny and really friendly as a friend and a rep the trip is well worth the money and i will come to this hotel for sure.
We have just come back from this hotel after being there for 2 weeks.
The hotel is absolutely fantastic, the food is so nice with plenty to choose from so you will never go hungry. The drinks are good you local spirits but you get the good mixers, pepsi, sprite, coke cola. The rooms are really big and spacious and they are cleaned every day with replacement towels. The staff are lovely and really go out of their way to help you. They have a transfer bus on 3 times a day to go into Naama Bay with one of them going to the old Market, which to be honest is crap, they just try and sell you rubbish but if you like Markets then you might like it there. The beach is over the road you have to go through the sister hotel takes about 10mins to walk. All in all I couldn't have asked for a better holiday.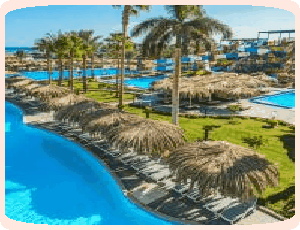 Sharm Hotels
Some fantastic ideas for unmissable trips to do in Egypt
Use the map for suitable areas!.
See sand art at the sand city museum. (Hurghada)
Take a Qarun lake boat ride.  (Cairo)
ave coffee at El- Fishawi Cafe. (Alexandria)
ail down the Nile on a felucca. (Giza)
ail down the Nile on a felucca. (Giza)
More Hotels in Egypt
Take a Taxi to Sharm
Egypt is an absolute nightmare for auto travel and getting to the Tropicana Azure Club Hotel Sharm or nearby resorts can get a real pain. So why not take a pre-booked taxi and arrive at your hotel relaxed? You really don't want to take a random taxi, even at the airport, so try and book a reputable Sharm taxi firm in advance.

Popular Hotels This Week