Wondering about planning a holiday? We are pleased to announce that Worldwide Holiday Packages will soon be posting more articles on planning a holiday, holiday events in Sharm El Sheikh and in the whole south Sinai. Local News, Special offers from hotels such as Hotel Sofitel Sharm El Sheikh, Announcements for latest events, Openings of new Hotels, Diving centers and Clubs. All is now available at your finger tips so let us help with accommodation for your needs for your holiday this year. Be a frequent visitor, we have some really exotic hotels, and make use of our fast growing, free of charge services before you book your holiday this year to the resort in Sharm El Sheikh. Let us help turn your next holiday into an awesome trip!
Looking for Holiday Reviews for the Hotel Sofitel Sharm El Sheikh?
Hotel Sofitel Sharm El Sheikh Holiday Reviews
Just returned from our second stay at this fantastic hotel, good food, fantastic location, pleasant and helpful staff and just the right distance from Naama Bay.
Sofitel Sharm El Sheikh has beautiful and extensive grounds with a very large pool, rooms are very clean but could do with some updating just go you will love.
We visited the Sofitel last October and have booked again for 2019.
The hotel is ideally situated on the shores of Naama Bay with private beaches, good security and beautiful grounds.
If you're looking for a relaxing break yet still near enough to the town for shopping, night life and restaurants then the Sofitel is ideal. The hotel staff are excellent and very friendly without being 'over the top'. The food on half board is mainly buffet style and if you are there for 2 weeks I would suggest seeing what nights you are not impressed with the food choice in week 1 and eat at either the hotel Indian or venture into town on those nights in week 2. Breakfasts were wonderful and kept you going for the rest of the day.
Would suggest you buy water bottles in the town and take them back to your room to put in the Mini bar as drinks are expensive at the hotel.
The private beaches are well looked after and the coral reefs excellent with Moray eels, parrot fish, lion fish and even a turtle. However there are some guests who don't observe the signs to say 'don't stand on the coral' and you can easily see the damage they cause. I would suggest buying a waterproof camera case and Debelius's 'Red Sea Reef Guide' before going on holiday as the money spent (around 20 pounds each on E Bay) is well worth it and will help with the memories when you get back. Birdlife was also impressive with Kestrels, bee eaters, white storks and Ospreys in the hotel grounds.
Contact the hotel before you fly out and they will gladly arrange collection at the airport although it can be a squash if several people are collected at the same time. I would also suggest that you ask for a room on the 3rd or 4th level to be away from any major pool noise but also to give you a good view of Naama Bay. We were on the 5th floor and the view was slightly restricted. We never had any complaint re the noise and you can always close the windows and have the air con on should it be a problem. Beware the odd mosquito in your room.
The rooms are perfectly ok and yes the bathrooms could be better but more fool you if you want to spend that much time in your room rather than being out in the sun and sea. Rooms had daily service and a mini safe. There are a lot of stairs and I agree that if you are older or unfit ask for a room on the first floor or close to a lift (2)
The guests were mainly Italian, French and Russian with very few British – they seemed to be staying at hotels in the middle of Naama Bay.
Overall, I would recommend the hotel for its location, staff and general relaxed feel where you can do as much or as little as you want to.
Free pickup from the airport (15min journey) arranged with hotel brought us to an impressive oriental reception at the Sofitel. Quick check in and porter took us to our room. Hotel situated on cliff top giving stunning views across Naama Bay. The bedroom was very spacious and comfortable with a good sized double bed, sitting area and balcony. The position of this hotel means it gets the best views across Naama Bay, also many of the other hotels along the promenade have the main path walking between them and their beach, not so here once you are on site it is only other hotel guests who are allowed here! The hotel has numerous facilities: A massive pool (never crowded), private beaches, dive centre, pool, table tennis, jacuzzi etc is at an additional cost (7 euros/day). There is an "entertainment" programme involving dancing, aqua gym etc which is disruptive and intrusive to those wanting to relax by the pool, however it only lasts round about an hour each day. Breakfast (continental, cooked, egyptian) is served in the restaurant. There are other restaurants and bars on-site but they are very expensive and a short walk into Naama Bay centre gives you hundreds to choose from at a fraction of the price. However the buffet at the hotel is great (served outside) and the Indian gives great food and great views over the bay! There are a couple of bars including the outdoor Horizon bar which is quieter than the bar for "entertainment". The hotel is situated about 30 mins walk along the promenade. Rated 5 star by the Egyptian Tourist Authority. A great place for some R&R after seeing the sites of Egypt. Oh and amazing snorkling from the hotels private beaches right onto a coral reef.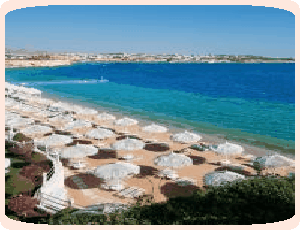 Sharm Hotels
Some ideas for amazing places to do in Egypt
Check the map for suitable areas!.
Cairo's Garbage City (Cairo) Slum Settlement Filled With Mountains of Garbage.
Nilometer (Cairo) An ancient instrument used to measure the waters of the Nile so Egyptian farmers would know whether to expect famine or flood.
Enjoy cable wakeboarding in Hurghada. (Hurghada)
Watch opera or theatre in Egypt at Cairo opera house. (Alexandria)
Watch opera or theatre in Egypt at Cairo opera house. (Alexandria)
More Hotels in Egypt
Take a Taxi to Sharm
Egypt is an absolute nightmare for auto travel and getting to the Hotel Sofitel Sharm El Sheikh or nearby resorts can get a real pain. So why not take a pre-booked taxi and arrive at your hotel relaxed? You really don't want to take a random taxi, even at the airport, so try and book a reputable Sharm taxi firm in advance.

Popular Hotels This Week